Or "Why G.K. Didn't Watch The Debate."
Oh dear Lord, we're going into another active phase of the perpetual election cycle, aren't we? Last week we got to see the spectacle that was the GOP debate and, while I didn't watch it live because I knew that, even with it being on Fox with supposedly "friendly" moderators, the talking-heads weren't going to be able to resist their chance to ham it up for the cameras and that the entire thing was going to be more about ginning up the ratings for the sponsors than it was going to be about the candidates actually, you know, talking about the issues and debating different approaches following set logical rules and avoiding logical fallacies such as strawman, reductio ad absurdum, tu quoque, ad hominem, appeals to (false) authority, special pleading, No True Scotsman, post hoc, and more while presenting actual evidence and solid reasoning for their beliefs or policy.
Can you tell I'm a bit of a throwback and a cynic? Television has ruined a lot of things and debate, argumentation, and critical thinking are among those things. It's a great medium for entertainment and it can be used for education, yes, and story-telling. Don't get me wrong — I'm not one of those who thinks that television is completely evil and has no redeeming qualities. I enjoy it — I have an active Netflix account and I've got Criminal Minds playing in the background. But, when it comes to journalism, television is the worst medium that could be used. It doesn't allow for truly in-depth coverage, cross-referencing, citation of sources, or deep thought. Newspapers are the best medium for daily coverage and bi-weekly or monthly magazines are great for bigger events or more thorough coverage of events or technical issues. Radio can be a passable medium so long as the moderators and the debate format are agreed to in advance and the topics are adhered to. Television, however, will never make a good medium for political debates or journalism.
Why? Because it's commercial. And, that's good for entertainment. Hell, it's great. It means that businesses and consumers are free to reward shows and sponsors and channels that entertain them or tell stories they like or support or whatever without having to directly own the studios or airwaves or whatever. There's no real need for government intervention, censorship, or anything like that other than "truth in advertising" laws (you can't advertise that your wooden spoon is actually made out of marble) and possibly some kind of daytime/child-safety advertising laws (you can't run alcohol ads or other adult ads during certain hours or on channels aimed at children — not that most marketers would sell or buy there anyway because it'd be stupid). However, it's an undeniable fact that you don't piss off your sponsors and you don't piss off your core audience. Just look at GamerGate. Intel pulled their ads from Gawker when Gawker's articles pissed off a sizable portion of the GamerGate audience and they threatened to boycott Intel. And that kind of pressure is fine for entertainment shows and even educational shows. But it is not fine for journalism. It leads to worries about offending the corporate sponsors or the consumers which leads to spin, blacking-out of stories, and a focus on feel-good stories or the promotion of news items in a way that is guaranteed to keep the money-spigot opened.
Another reason television is a terrible medium for journalism is because it's a visual format which leads to people judging based on appearances instead of based on the actual argument. Have you ever noticed that all of the news anchors are good-looking? And that none of them are terribly intelligent or creative? If they were trapped in the middle of a desert, they'd be screwed. Hell, if they were knee-deep in a river, they'd die of thirst. They went to fancy universities, yes, but that means nothing. Unless they graduated from CalTech, Standford (with a degree in hard sciences), or MIT, it's worthless. These people were hired for their ability to look good on camera and read from a teleprompter or from cuecards. They were not hired for their ability to think critically, reason, ask difficult questions, or for their finely-tuned bullshit detectors.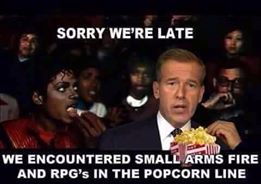 A final reason television is the worst medium for journalism is because of its shallowness. Television is a very shallow, very short-form medium. Since it's so visual and auditory, it's easy to get overstimulated which makes it difficult for long-term memory to be engaged (which is why visual tricks and cut-aways can be used to deceive so easily — see below). The set-time format makes it impossible for any topic to be covered in real depth and the inability for there to be hard, permanent reference points for citations or notes makes cross-referencing difficult, if not impossible. Add in the general passivity it requires of the audience and it's just a terrible medium for something as serious as news journalism and political debates.
There are other reasons television is a terrible medium for serious topics — it's untrustworthy because it can be deceptively edited without the viewer being aware of it at all and, unless there are other recordings made, there's no way to prove it (and there are never other recordings because of technical and legal reasons — no sound studio is going to let an interview subject bring in his own film crew and sound crew because not only will that cause phase cancellation issues, energy, and temperature issues but it sets them up for liability and insurance nightmares. The studio and journalists also won't go for it because then they won't have the sole copyright, there will be a plethora of distribution issues, and it would force them to be too damned honest).
Television — great for entertainment but a terrible way to receive information and select our leaders. Just FYI.
— G.K.
Please follow and like us: