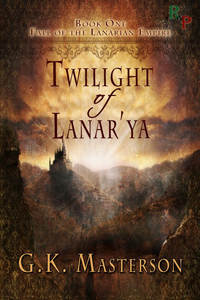 For three thousand years, the Knights of Lanar'ya have guarded the Lanarian Empire against dangers both internal and external. For three thousand years, they have fought to push the dreaded Night-Souled back, hoping to drive them into the Northern Sea. For three thousand years, they have given their lives, their fortunes, and their honor to protect their people. But now, twilight is falling upon the Lanarian Empire.
Commander Jarl Loriaska is recalled from his post as High Commander of the Boundary nearly thirty years ahead of schedule. Soon after the Left Hand of the Empire, Ragnar Gattner — the man who has led the Knights for nearly half a century — dies, Jarl is sent out to try to reunite the swiftly unraveling Empire. Taking with him a young mage, he travels the land, going down into the depths beneath the dwarven thanedom of Thran'kador, beyond the northernmost boundary at Sesh'ki'han, and through the forbidding forests of the elven nation as he attempts to uncover the forces behind the Empire's coming collapse. The more he learns, the less Commander Loriaska feels like he knows about the threats striking at the very heart of the Lanarian Empire.
Available now at Amazon.com and through Rooster and Pig.
Praise for Twilight of Lanar'ya
"[Twilight of Lanar'ya] is like a warm jumper in winter." Denis Fitzpatrick, This Mirror in Me.